Who else wants a family stay in a water theme park? Check out the deals for Bayou Lagoon Park Resort Suites.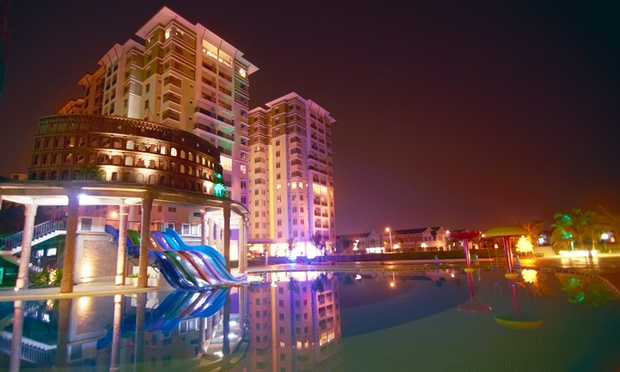 Benefits of staying at this resort
4-star resort located a 20-minute drive from Melaka city.
Facilities include a water park, restaurant, playground, fitness centre, and more.
Visit Jonker Street, Porta de Santiago, Stadthuys, Baba & Nyonya House Museum, Cheng Hoong Teng Temple, Melaka Straits Mosque, and more.
Bayou Lagoon Hotel Facilities
Restaurant
Water park
Kid's playground
Fitness centre
Complimentary Wi-Fi
Games room
Tour information
Transportation services
Laundry service
Parking lot
Meeting and conference room
Why Stay at this Hotel?
The sound of water splashes and children's laughter travel through the resort's apartment buildings, temporarily banishing memories of daily traffic jams and phone rings. Sip a cup of hot coffee on the soft couch in your apartment's well-furnished living room, or have some splashing fun at the water park's colourful slides and pools. Owners of hungry tummies can seek out international and local cuisines at the Bayou Coffee House, followed by a 10-minute drive to visit animals at the crocodile park and Malacca Zoo.
Visit this deal at this site.
You Can Save Up to 73%
Studio Suite
2D1N stay + waterpark tickets for 2 for RM158 (up to RM592 value)
2-Bedroom Apartment
2D1N stay + waterpark tickets for 4 for RM258 (up to RM812 value)
3-Bedroom Apartment stay
2D1N stay + waterpark tickets for 6 for RM358 (up to RM1,032 value)
Value: RM1,032
Discount: 73%
You Save: RM674
Includes (for 2 people):
Stay in Studio Suite for 2 people / 2-Bedroom Apartment for 4 people / 3-Bedroom for 6 people.
Complimentary Wi-Fi and parking.
Water Park entrance (2 for Studio, 4 for 2 Bedroom, 6 for 3 Bedroom).
If you plan just to go the water theme park for a day trip, do not want to stay here or have another place to stay – click here for discount tickets to Bayou Lagoon Water Themepark. You can also check out other cheap but amazing destination ideas at Groupon.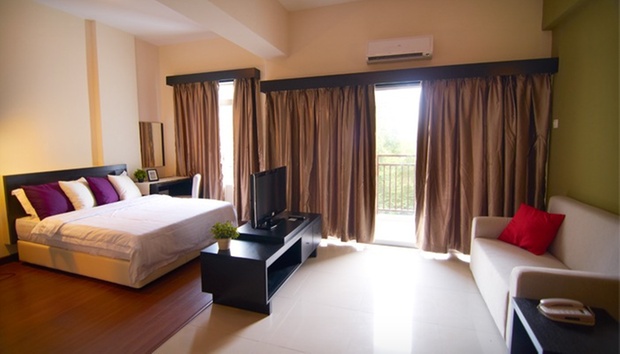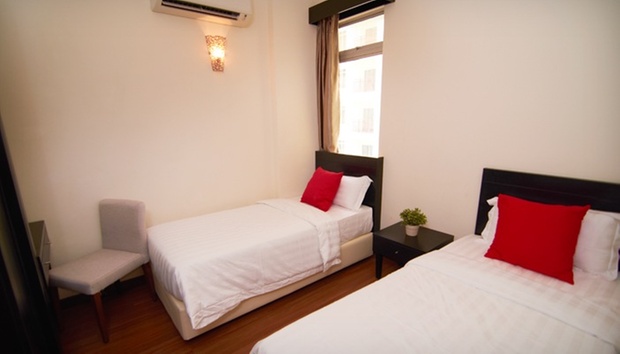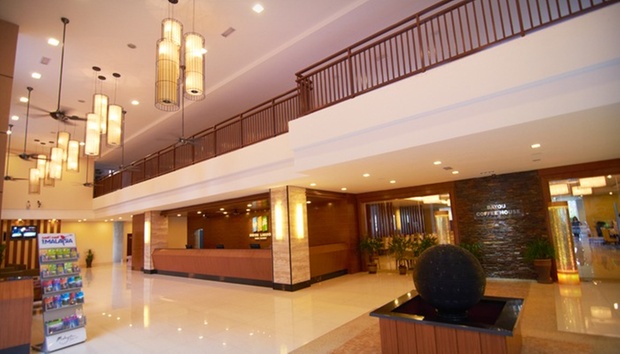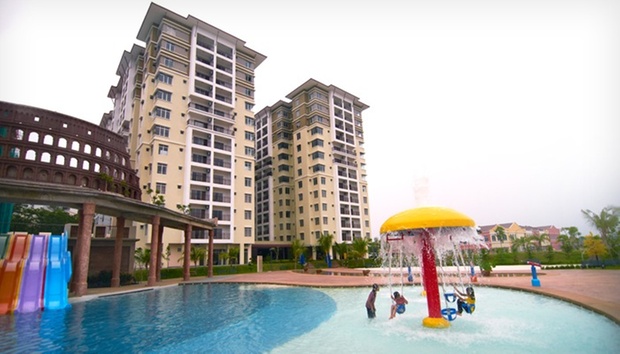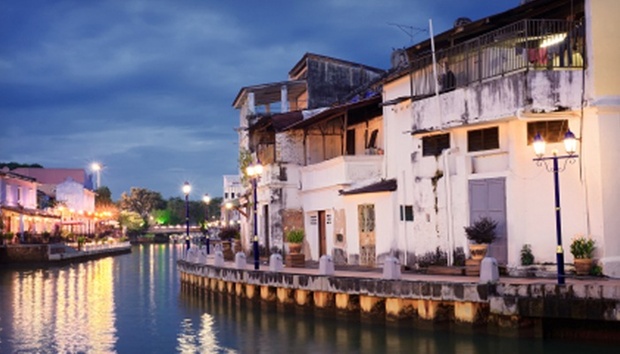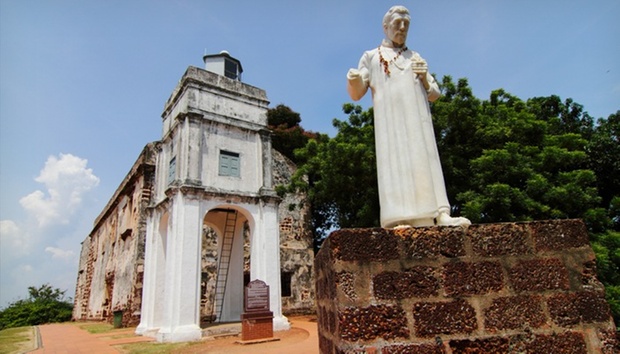 Malacca: What to see and do
Travel back in history to what was once the East's more formidable city of influence and one of South-East Asia's UNESCO Heritage Site that is Malacca. What began as a quiet fishing village quickly became the central trading ground for Asian and European merchants under the rule of its first sultan, Parameswara. Its heritage as an international port is deeply etched into the architecture, food, and people that make this state home. One of the artifacts left behind is Dutch Square. Coloured in deep dark maroon, what used to be an administrative building for the Dutch colonisers is now the main town square that graces many a greeting card and tourist photograph. Dutch Square is but the tip of the iceberg that is Melaka's architectural heritage; there's Fortaleza de Malaca, a Portuguese fort; Bastion House that once served as a British bank; and the Baba Nyonya Peranakan Museum housed in an actual Peranakan heritage home.
Jonker Street is another favourite and is host to the ever popular Jonker Walk Night Market during Fridays and Saturdays, though when bathed in the harsh light of the weekday is more known for its aged yet nostalgically picturesque pre-war shop houses. Get a mouthful of history with samples of local cuisine, the front-runner being Baba-Nyonya food. Dishes that were once made in the confines of grandmothers' kitchens have now become eponymous with the city's fusion flair, along with Portuguese-Eurasian cuisine which one may find at the Portuguese Settlement, home to the descendants of former Portuguese colonisers.
Transporting you a century back with her colonial legacy which was influenced by the Portuguese, Dutch, and British, a port-city tour around the surviving building remnants brings you up close to the enduring reminder of the power wrests which keeps Malacca in the more dynamic sections of the ancient Malay annals.
Deal Ending Soon
This is not a contest or giveaway. No need to wait to be a winner.
You can grab this deal by visiting the link below, guaranteed (provided you did not miss the deadline).
Click here to grab this deal now.
Deal expires anytime soon, so hurry!
Who Else Wants This Awesome Hotel Deal?
How do others value this special offer? At the time of this writing, more than 351 people have enjoyed this amazing deal.
Click Here to Get FREE Waterpark Tickets to Bayou Lagoon Park Resort.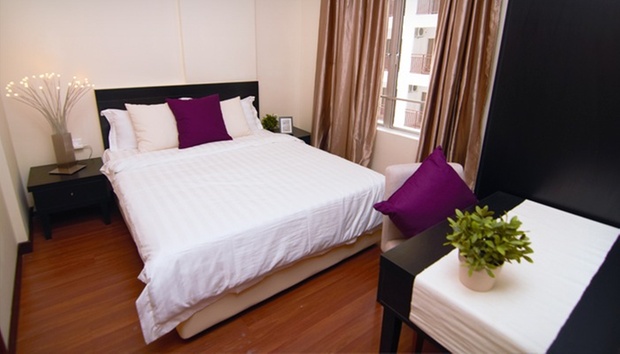 What Others Have Said About Bayou Lagoon Park Resort
DianaCeline, Malaysia (via Trip Advisor)
"Overall not bad trip for family with kids. Check in was fast. 'People Mountain People Sea' on weekends. Room was spacious and beds are okay. Just average. But the bathroom drainage was terrible. Water can't totally drained n making a small puddle at the toilet area n feet will be wet n cold. So bring extra slippers for bathroom use…."
Luzy A (via Trip Advisor)

"had a very great time with my friends..it was affordable price with the best room for that price.. a bit far from the main attractions but worth it..the water park was fun..the staffs were friendly and helpful. especially the front office staff"
How to Get 7% Groupon Cash Back
Did you know that you can get 7% cash back for your Groupon Malaysia purchases if you join this awesome cashback program?
Click here to register for free
.
You can also get cash back from many other popular online stores including Lazada, Zalora, Agoda, Photobook Malaysia, AirAsiaGo, Booking.com, AliExpress, FashionValet, Qoo10 (MY), Godaddy, Expedia and many more from this cashback program.