Who else wants to get some money back by shopping online?
The MilkADeal Cashback program is about giving back to the consumers. Every time you visit a store or merchant website such as Lazada, Zalora, Agoda, AirAsiaGo, Groupon, Photobook Malaysia, Booking.com, AliExpress, FashionValet, Qoo10, Godaddy, dan Expedia and many more listed on MilkADeal dashboard and make a purchase, you will get cash back!
Ya, boleh dapat wang tunai!
This program is similar to Shopback in Malaysia and TopCashBack in the UK.
Below are some merchants and websites where you can get cashback. Have you shopped at any of these before? Do you love shopping online?
Then you must join this cash back program and earn back some money!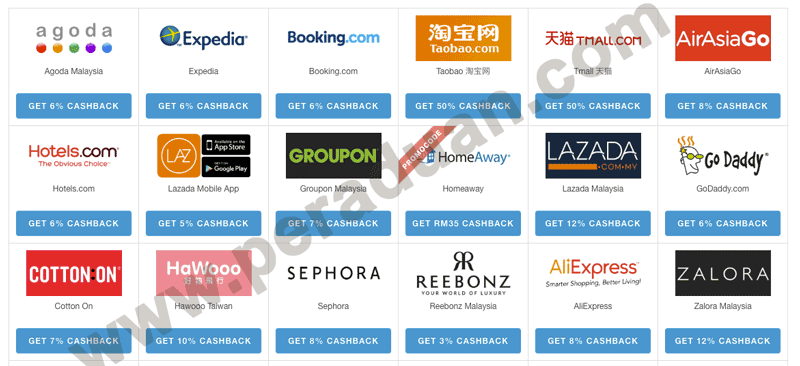 Amount you make varies based on the different percentage listed or the available deal. MilkADeal is paid a commission on every sale you and other users bring to their partner websites as referral fee. From that referral fee, they take some of it to cover their running costs and return the remaining commission back to you as cashback.
Their principle is that they do their very best to return the maximum they can afford to you so that everybody wins in this transaction.
How They Do It
MilkADeal get paid by the stores or websites every time you visit them from Milkadeal website and make a purchase. Instead of keeping everything for themselves, they decided to give back to you guys.
How Much Can You Make?
Every time a you visit a store / website listed on MilkADeal Cashback and make a purchase, you will get cash back! Amount varies based on the different percentage listed or the available deal.
How to earn Cashback with MilkADeal?
Visit their website to register (it is free to register)

Login and browse for your favourite store.
Find a coupon or simply go shopping through the "Shop Now" link and shop like normal at the store.
Once your order is reported to Milkadeal, cashback will be added to your account. It's that easy!
Additional Way to Make Money: Milkadeal Referral Program
Here is another perk that we like about Milkadeal. If you tell your friends about MilkADeal, you get RM5 bonus and on top of that, you also earn 5% referral rewards on your friend's purchases!
Here are some tips to convince your friends to join:
Refer your friends to shop via Milkadeal
Let them know they get a RM5 Bonus just for joining.

Tell them how much Cashback you've already earned.
Walk them through signing up for MilkADeal if they need a little help.
You can send reminder emails to friends who haven't joined.
Even if you are too shy and cannot refer any friend, you can still receive RM5 Bonus for joining! – just by registering an account here.
You can invite your friends in different ways including via Facebook, Twitter or Google+. You can promote via your blogs, forums or word of mouth but you have to remember to use your special referral link (given once you register an account with them). You can also send recommendation emails to your friends using their easy-to-use form.
Can You Trust the Program?
Like many make-money-online programs out there, there will be scepticism and doubts before you sign up. However, these doubts are not unfounded because there are too many scams and unreliable ventures out there.
Here are the truth about some not-so-nice things about this program that we must share with you.
To request for a withdrawal, you will need a minimum amount of RM10 in your confirmed cashback

The minimum payment amount (payout) is RM10.00. You will not be able to cash out until you have at least RM10 Confirmed Transactional Cashback amount in your account. This means you cannot just cash out the RM5 bonus you get by signing up – you need to purchase something, get some rewards from your purchase(s), and when the amount is RM10 or over, then only you can ask to cash out to your bank account.

To cash out your Bonus/Referral rewards, you must have at least as much in Confirmed Transactional Cashback

The Bonus/Referral Reward (by referring friends) cannot be cashed out by itself. You need to have a matching amount of your own Transactional Cashback (the amount you collected from your purchases) in order to request a cash out for Bonus/Referral Reward. This is understandable because this is one way to filter frauds and self-signups by users. But do not expect to make money just by signing up new friends – you need to purchase too.
So if you are want to receive cash back for your online purchases for the long term, then this is the program for you. If you think you want a quick way to make money, then you should forget this program.
Is Milkadeal a Scam?
This is a common question asked by many especially before you want to join something that require you to put money or effort (to promote their links for example).
We are confident that Milkadeal is not a scam because:
The do not require payment to join. Yes it is free. If you were asked to pay a fee to join a program, you have to be extra careful. It could easily mean that the contest and the organiser cannot be trusted.
We cannot find bad any review about them on the web. We will keep our eyes on user reviews about Milkadeal from time to time.
Their website also looks professional and do not have the signs of scams.
The only problem we found is that we cannot find a physical address of their office or any contact phone number.
How do you cash out your Cashback?
When you have accumulated RM10.00 or more in confirmed cashback, you can request to cash out via "My Dashboard". They will then bank-in your cashback to your Malaysian bank account within 7 working days.
Click here to register an account now!
How to Get 7% Photobook Malaysia Cash Back
Did you know that you can get 7% cash back for your Photobook Malaysia if you join the MilkADeal cashback program?
Click here to register for free
.
You can also get cash back from many other popular online stores including Lazada, Zalora, Agoda, Hermo Malaysia, AirAsiaGo, Groupon, Booking.com, AliExpress, FashionValet, Qoo10, Godaddy, Expedia and many more from this cashback program.